Tattered Corners New & Used Bookstore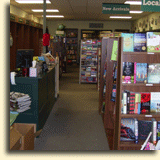 Tattered Corners New and Used Bookstore opened its doors in 2001. We are a full service, community minded bookstore carrying a lot of everything! We offer both new and used books. We have a large selection of childrenís books from baby board books to young adult literature. Please stop in and check out our collection of over 30,000 books. Let us know you saw us on the World Wide Web.
Paperback Exchange Program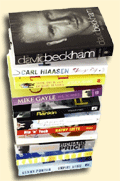 A large majority of our business is from customers who utilize our paperback exchange program. Under this program, customers bring in their previously read books. Store credit is issued to their account for 25% of the publishers price of each paperback book. Hardcover books are credited according to our discretion. We prefer fiction (thatís the made up stuff) in paperback. Nonfiction books are accepted in hardcover or paperback. Your store credit in turn, pays for 75% of your next purchase. 25% of that purchase must be paid for in cash or credit card. Click here to see an example of how it all works. We have a computer program that keeps track of your credit. Store credit applies to the purchase of used books. Books marked New or No Trade cannot be purchased with store credit.
Paperback Exchange Program Example
Publisher's Price - $7.99
Your Cost - $4.00
Credit (if applicable) - $3.00
Cash Owed - $1.00
Special Orders
We stock most of the New York Times current bestselling books. If we do not have the book youíre looking for, it can generally be here in 1-2 days. No shipping charges!
Out of Print Searches
Our experienced staff can locate most any out of print book. Have a favorite childhood book you would love to own again? Canít remember the exact title? Give us a call and we will gladly help you to reconnect with that book!
Buying Books
In general, we do not pay cash for books but rather we give store credit so you can purchase more great books. If you are moving, or just want cash, and your books are something that we think we can resell, we will pay you cash. You will need an appointment if you are bringing your books in for cash. Please call the store to schedule a time.